Visit their website: http://www.airfiordland.co.nz/
New Zealand Scenic Flights by Air Fiordland - Lake Te Anau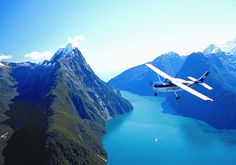 Fly with Fiordlands most experienced fixed wing operator over the Southern Lakes and Alps. Air Fiordland have a passion for the Fiordland National Park area. Unquestionably some of the worlds most spectacular scenery. Scenic flights to Milford can include packages which include boat cruises and coach options. Scenic flights over Doubtful Sound are also available. Enjoy an enlightening commentary and friendly service. All seats are window seats.
What took nature millions of years to create, we can show you in just a few hours.
"It's Simply World Famous... You Just Have To Do It!"